Organizational Human Potential Certification Training
Become a Certified Human Potential Coach to support organizational development & conscious culture
Next training dates: TBD
Class Times: 8:00am – 10:30am CET / 11:30am – 14:00pm IST / 16:00pm – 18:30pm AEST / 18:00pm – 20:30pm NZST 
This certification program is for:
External coaches or consultants looking for a proven innovative approach to unleash human potential within organizations (both for profit and non profit) OR

Internal coaches / change agents who aspire to champion a more conscious culture in their organization to maximize social and community impact.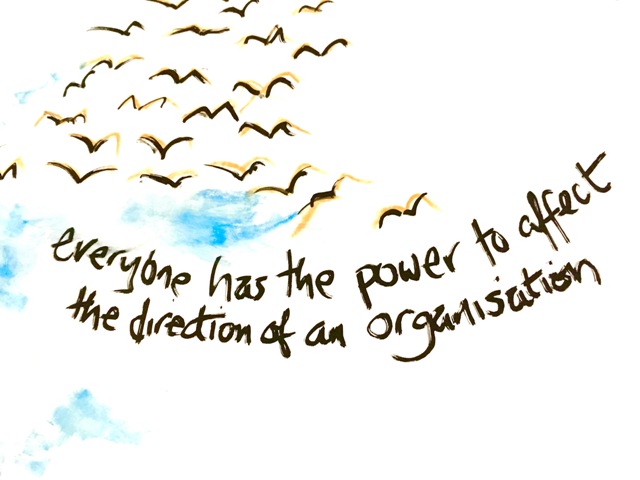 This training aims to empower and equip OD Professionals with the tools and know-how needed to take their clients on a journey towards conscious culture. You will learn how the human potential tools and methods open the door to breakthroughs in employee engagement, innovation, trustworthiness, and ultimately the bottom line.
Are you ready to join a wonderful community of like-minded Human Potential experts across the globe? Are you ready to take your service to the next level and help organizations unlock a new paradigm of value creation?
If you choose to go on this journey with us you will not only access a powerful suite of human-centric tools and methodologies to help organizations confidently step into this new paradigm, you will also take the plunge yourself!
At the end of this 2.5 day in- person training you will be equipped to:
Debrief the Human Potential assessment with your clients

Make a robust business case for HUMAN POTENTIAL DEVELOPMENT and expand your effectiveness in OD work

Clearly demonstrate how a greater focus on HUMAN POTENTIAL REALIZATION drives key business metrics such as: employee engagement, trustworthiness & innovation

Inspire your clients to bring more focus and attention on the HUMAN DIMENSION in their organizations

Offer very concrete tools and methodologies that bring more objectivity to the subjective nature of human beings
Between classes we will continue to connect and support each other through a number of online platforms. As part of the Being at Full Potential community you have access to a backend where you can manage your client accounts, automatically generate detailed reports, and connect with other change makers through our websites community forums, research updates, and local and international events.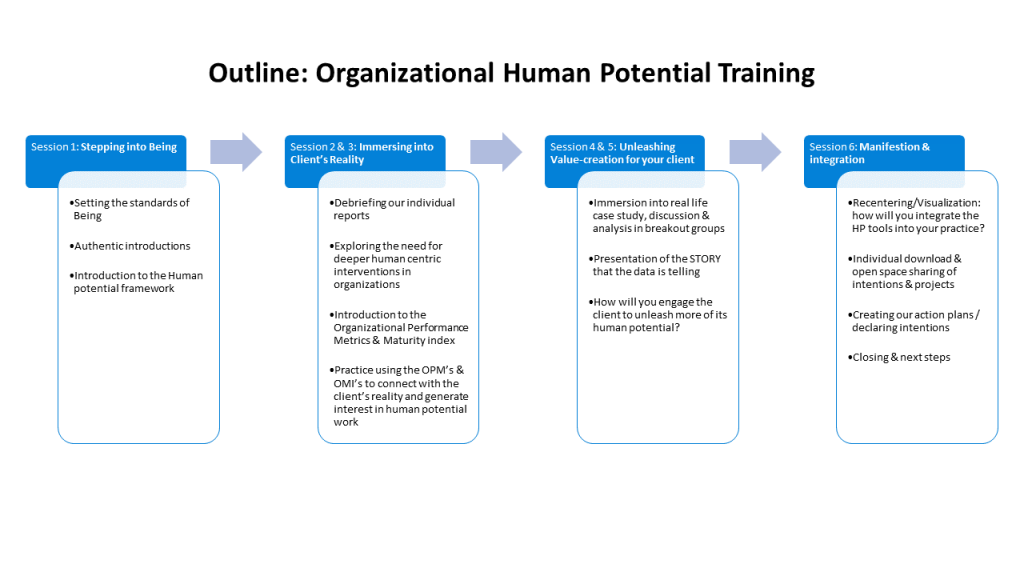 " I absolutely love the Human Potential Organizational Assessment Training. Something happened there. Yes, we got all the content, information, analytics and explanations of the model, but it was so much more. The space that was created allowed me to connect deeply to my being and even at this moment, a week after the end of the training, I am still connected and on this cloud. And from this place I am not doing 'acquisition', but I am actually magnetizing people around me. Something is happening! Thank you so much Mark and Sujith, for making this happen!"
The human potential assessment is like a "map of Being" reflecting back who we are in our wholeness. From this place there is nothing the "fix", just more potential to discover and unleash.
The Human Potential Assessment Tool is not just another HR, leadership or personal growth tool. It is a gateway to new possibilities, that are bedded in the essence of who we are and could be. It touches those deep and delicate places in us, our cultures and organizations, that foster the strength to create bold and transformational changes.
I am SO impressed with the Human Potential instrument to stimulate powerful conversations! Simply opening up questions about a few dimensions on the instrument and inviting inquiry into the intersections revealed by it led to a GREAT conversation! I am really looking forward to future use with my clients.
I knew your process would be different than other ways to plan forward, but I failed to comprehend its power for pulling out new insights.
If your heartfelt desire is to build a prosperous enterprise in Life, whatever is the form, you need to start with the true foundations of your home. The Human Potential Assessment Tool makes the invisible visible, through a clear, concrete and accessible framework for individuals and organizations.
Human Potential based restructuring at Omega Healthcare Management Services, India
Embedding Human Potential Realization in the culture of Teach for America
Igniting innovation & growth through Self Leadership at Thornton's Budgens supermarket in London
Building resilience and uneashing creativity through Human potential coaching at Sacred Heart Center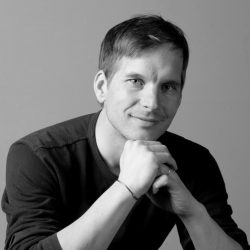 As co-founder of Being at Full Potential, I assist leaders, in both companies and other types of organizations, to question some of their most ingrained assumptions about the business, to look at the future with fresh eyes and to courageously expand the role they play in society.
Our Human & Organizational Potential Tool makes it possible to measure the extent to which your current potential is being utilized and gain enough confidence to move ahead with the key interventions that will have the biggest impact on performance. Following the assessment, we offer a range of coaching programs designed to help bring out the Full Potential of the people and the teams they work in.
Since our foundation in 2013 we have trained and certified 150 coaches who offer this work to their clients on four continents.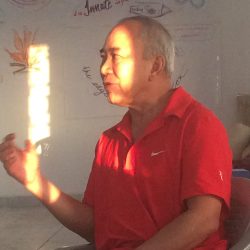 Peter is the director of Being at Full Potential, New Zealand. His expansive knowledge in the area of Conscious Culture makes him a trusted partner to accompany organizations on their transformation journeys. 
Time and again he has witnessed the power of the Human Potential assessment & methodology as a new generation tool to design and deploy organizational Conscious Culture for breakthrough outcomes.
As a trainer he brings immense passion and thought leadership into this program. 
Where?
The training will be facilitated online through Zoom.
When?
TBD
Class Times: 8:00am – 10:30am CET / 11:30am – 14:00pm IST / 16:00pm – 18:30pm AEST / 18:00pm – 20:30pm NZST 
Participation fee
EURO 1295. Participants joining from developing countries: EURO 700
Early bird (Before July 15th): EURO 1095. Participants from developing countries: EURO 549
For questions please contact us through e-mail or leave a message:
Mark Vandeneijnde at mark@beingatfullpotential.com or Peter Leong at peter@beingatfullpotential.nz